Windows
2000/NT/XP/2003/Vista/7

If you need to export information from Word to XLS with correct data transfer, it is recommended to use Total DOC Converter. Such operation is especially popular when you have tables saved in DOC. Microsoft Excel allows to process data more efficiently. For instance, it is possible to perform different calculation between cell values or build diagrams based on them. Word has no such abilities, that is why saving table information in XLS is much more preferable.

If to use Total DOC Converter, the operation of converting Word to XLS takes a few seconds. All you need to do is:
install and open the program on your PC
navigate through your memory folders to find required source files (the program has in-built navigator)
check off all source files or file folders
click СExcelТ in the top target format bar
Set font parameters if needed
Click СStart!Т button.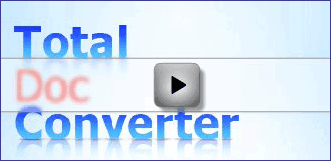 Total DOC Converter supports different conversion modes. When converting DOC into XLS, you can use batch conversion. It implies that all source files are converted at once. Program can process as many files as you need, using the same settings for the whole batch. This feature allows saving time when converting many files. Single conversion allows to convert Word to XLS files one-by-one, setting different parameters to each file. You can also set a file folder as a source for conversion. In this case all files from it will be converted to XLS. For instance, you can convert files once a day, collecting all required source for conversion into specific folder.
Total DOC Converter works in two modes: GUI and command line mode. You can choose any you like, both of the modes are handy. Working from the command line, the program wonТt launch its GUI, converting files in background mode. Besides XLS, Total DOC Converter supports a lot of other text, image and database target formats. Buy this one-for-all utility for your own use!