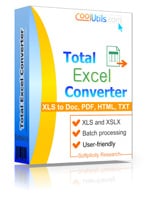 Interface languages: English, Spanish, German, French, Italian, Dutch, Russian, Swedish, Korean, Japanese.
Windows 2000/NT/XP/2003/Vista/7
If you are the one who oftentimes has to deal with XML documents, you are sure to be aware of the fact that there are situations when these files have to be converted into other formats. If the software you own allows to convert XML into RTF, DOC and similar formats, then you are perfectly fine. But, if it does not, you might face certain problems.

A good way to convert XML into RTF, Rich Text Format for text files developed by in 1987 by Microsoft Corporation, is to equip your computer with XML converter. There are several ways to get a good and reliable program. The first option you have is Googling УXML RTF converterФ and compiling a list of available programs. Then, you should carefully read the reviews online or ask for recommendations from your friends. The second option you have is try Total Excel Converter developed by CoolUtils and owned by thousands of users all over the world.

This application is guaranteed to yield high-quality results and even moreЕ Here is a short list of advantages of Total Excel Converter that make it so different from everything else available on the market of conversion software:
It is easy to use
Unlike other programs that can be very difficult to master, Total Excel Converter has user-friendly interface that is suitable even for beginning users. Those who need extra help converting XML files can always contact customer support or refer to online slideshow and how-to articles available for free on CoolUtils website.
It is functional
With Total Excel Converter, you will be able to convert not only XML documents, but also files saved in such formats as XLS, XLSX, ODT, ODS, SQL, WK2, WKS, DBF, TEX and DIF. The same is true for output formats; RTF is only one of the formats you can convert files to. Others include, but are not limited to: DOC, DOCX, PDF, HTML, TXT, ODT, ODS, XML, SQL, and CSV.
It is affordable
Total Excel Converter can be purchased for under $50! Not ready to pay now? Simply download the free trial version of CoolUtils converter and use it for 30 days at no charge!