Roll over to see full-sized:

Windows 2000/NT/XP/2003/Vista/7/8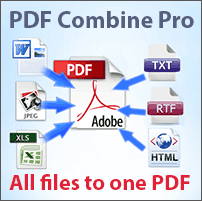 PDF is one of the most popular formats of document sharing and storing. But editing it is still a problem for an average user. For example, joining PDF files into one is impossible without a third-party program. When you have to merge book chapters, as well as parts of presentation, press-release, statistics, etc. use PDF Combine from CoolUtils.

This utility allows to merge PDF into one document within a few clicks. Not overloaded with extra unnecessary functions, PDF Combine is a fast and easy-to-use application that can process as many PDF files at once, as you wish. Take a quick video tour to see how it works:




Win 2000/NT/XP/2003/Vista/7/8
The only adjustment you need to do is to select one of three modes of combining:
Combine all into one document: all selected source files and files folders will be combined into one single PDF file as a result.
Separate files by folders: files from each selected source folder will be combined in separate PDF files (one file for each folder).
Separate by common name part. Files will be separated by the common name part if such exists.
PDF Combine can be managed using the command line. You can combine your PDF files using the commands with defined parameters of required combination: source, destination and options. All parameters description can be found in Help menu of the program. Using command line it is enough to have only PDF Combine application installed on your PC. You don't need to open the program, when launching it from the command line.
PDF Combine is a little more comfort to your PC work. Buy it now and forget about dozens of separated PDF parts of one document or book. Get the program for unlimited term after purchasing a license or download a trial version to feel its convenience before making a purchase.