RTF files are not suitable for storing texts compactly or sharing them via email, as such files are rather big in size. If you deal with lots of RTF documents and would like to make their compact storage, you can merge RTF into multi-page PDF file that will be much less in size than the originals. For this you will need PDF Combine Pro utility. It automatically exports information from RTF documents to a single PDF file.
This is very easy to arrange storage like this having PDF Combine Pro. The program features adjustable settings, and all you need can be setup in a minute. No need in pre-editing documents or any other manual efforts. Even settings are optional. If you just need to combine 2 RTF files into one PDF without special requirements, all you need to do is to:

Launch the program

Find required source RTF files

Check off them in the list

Press Combine button

Press Start!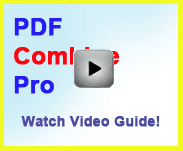 These easy steps will lead to a correct PDF copy of selected originals, combined in one single multi-page file. Additionally to this you can add bookmarks so that each bookmark corresponds to the beginning of each document. In this way you can easily find any document in result PDF file. It will be comfortable to view them.
Another advantage of PDF Combine Pro is its ability to combine RTF files into groups by common name part. You can set the program to merge several RTF files into one PDF, if they have the same set of characters in their file names. Just specify how many characters to analyze, and program will group files with common name part into one PDF. This is very useful for combining reports or book chapters that usually have names different only by number index.
Get PDF Combine Pro now and try it. You will see how easy it is!