Converting files from MS Word to PDF gives ability to create their uneditable copy. It is perfect for posting reports, reviews or other information for demo purposes. You can easily combine 2 Word files into one PDF with the help of PDF Combine Pro utility. Basically it is a batch converter that can convert various documents to PDF file.
Regardless of how many Word documents you want to convert to PDF, it will combine all of them into one single PDF file. So you don't need to copy paste various DOC fragments into one file before conversion. PDF Combine Pro will merge word into multi-page PDF without any manual preparations. All you need to do is to specify the following settings:

Combining mode

Path for saving the PDF copy

Bookmarks generation parameters

Header content and position

Footer content and position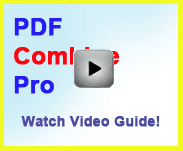 You can either combine all source files to one single PDF or separate files by folders/common name part. If you choose to merge several Word files into one PDF by common name part, all the files that have it will be combined into one PDF file. This is very useful option when you need to combine monthly reports for one specific year into one single PDF file, for sample. You can experiment with different combine modes to understand how they work. It is very quickly and won't take more than a few minutes.
All the options are not compulsory to use, set just the ones you need. You can also run PDF Combine Pro from the command line, and even generate an automatic command for this, based on specified parameters in settings manager. The command will be saved in .bat file that can be run from the command line.
Download PDF Combine Pro here for exporting your Word files to PDF quicker than ever. Try it now!