Sometimes XLS tables are not comfortable to view due to a lot of sheets. Also in XLS different commercial data can be stored and it can be easily edited or deleted, if to share it in native format. For this purposes PDF is much more suitable, as it doesn't provides ability to edit information. Moreover, it is better to view information in standard paper format. PDF Combine Pro will help you to merge XLS into multi-page PDF file with bookmarks and other useful add-ons.
This program automatically turns a batch of XLS tables into PDF documents. It exports all the information correctly, so no data loss due to conversion occurs. The process of conversion is very simple:

You launch the program

Then navigate through your folders to find proper source files

You need to check off the proper files in the file list

Press 'Combine to PDF' button

Adjust settings in the popup wizard

Start combining process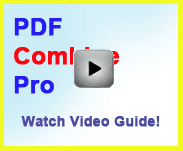 In settings wizard you will find a range of parameters for adjusting the output PDF formats. If you combine 2 XLS files into one PDF, you will probably not need adding bookmarks or page count. But if you deal with many files, such features will be extremely useful. You can edit header and footer by adding various additional information like page count, date or stamp. You can select specific font type and alignment for this data. Bookmarks can be created from original file names (one bookmark per file), document titles or loaded from external file with captions. These settings are not compulsory, they work just as add-on to standard functional.
PDF Combine Pro can merge several XLS files into one PDF document in a few seconds. It works quickly and safely, being able to process any number of files at a time. Download the program here.