| | | |
| --- | --- | --- |
| How to Pick a Good PDF Converter | | (only $49.90) |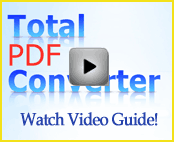 Is it true that your colleagues, bosses, partners and friends have simply filled your mailbox with PDF files? Is it true that you are tired of organizing documents saved in the Adobe Reader format on your computer? Is it true that you wish there was a tool that would help you get rid of all these PDFs at once? If your answer to all or at least one of the questions above is УYes,Ф then youТd surely be interested in Total PDF Converter.
Total PDF Converter is a special tool designed by CoolUtils, a well-known software development company, to convert files saved in PDF to other formats. Of course, thereТs a lot of convert PDF software available from other developers online, but Total PDF Converter has a number of advantages that you should consider before you download PDF converter. They are:
Great reputation
Total PDF Converter is already owned by thousands of users from countries all over the world who find it extremely efficient and easy-to-use. They strongly recommend CoolUtils converter to others.
High efficiency
Total PDF Converter can be used to process documents saved not only in PDF format, but also in PS, EPS and PRN to HTML, DOC, CSV, JPEG, TIFF and more. What is more, it can be used to convert PDF files in batches! This option will definitely be very useful for those who are loaded with PDFs.
Simple interface
You are guaranteed to master Total PDF Converter is minutes even if youТve never before dealt with this type of software. The simple interface and free how-to articles will surely help you to understand how it works very quickly.
Ultimate customer support
CoolUtils customer support service is available 24/7. This means that you contact the companyТs representative at any time should you have any problems, questions or suggestions.
Low price
Finally, Total PDF Converter is very affordable. Priced at under $50, it can be purchased by virtually anyone! Download your free trial version of Total PDF Converter now and use it for 30 days!
Windows 98/2000/NT/XP/2003/Vista/7
Interface languages: English, Spanish, German, French, Russian, Japanese
Back to Total PDF Converter Home
Free Online Converter Converter