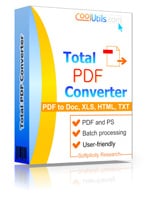 Windows 2000/NT/XP/2003/Vista/7
Users are often facing with the problem of using the information from PDF files in the Internet or their own works. A good way to extract specific data from PDF file in the form, optimized for web publication is converting PDF to PNG format. PNG is a special graphic format that allows heavy compression with no loss in visible quality. It was developed to change the old GIF format. When you transform PDF to PNG files, the information from PDF becomes available for editing in various graphic editors that support PNG. PNG format is free and doesnТt require any license, so it is supported by the vast majority of popular editors.

If you are looking for easy way of how to render PDF into PNG, try Total PDF Converter Ц a user friendly application with advanced features that allow to convert PDF into PNG files in the way you need. Whether you want to transform all PDF pages into one image or create separate files for each PDF page, this PDF PNG converter is capable of doing all you want.

If you try Total PDF Converter, you will see that everything is quite simple in this program, as it was developed for users of any level of computer skills. All you need is to select required PDF source file and click on PNG button from the УConvert toФ line on the top. In the opened options wizard you can select the DPI ratio, page size, type of conversion and PNG file name. ThatТs all! If you have lost and do not know exactly what options to select, Total PDF Converter will offer you a default variant of settings, all you need is to click on УStart!Ф button.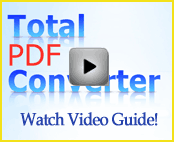 Order Total PDF Converter online now and quit yourself of all problems with PDF conversion!
Interface languages: English, Spanish, German, French, Russian, Japanese.