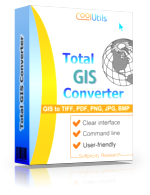 Windows
2000/NT/XP/2003/Vista/7/8
Total GIS Converter is a professional solution to convert GIS files in batch. It converts AEP, GRD, ADF, E00, FLT, APR, SHP, DXF, BT, TOC, RT1, DEM, DLG, ECW, IMG, DGF, GML, SID, MIF, TAB, WOR, DNG, DDF, BIL, TIF, JPEG, TTKPS, TTKGP, TTKLS, LFT, PFT, and TFT files. The output formats include TIFF, PNG, JPEG, BMP, PDF. The program easily processes large GIS files in batches. Both GUI and command line version come in one download and are not charged separately. Being that powerful Total GIS Converter features a simple step-by-step interface. So new users don't get lost in settings.
Total GIS Converter converts large GIS files and keeps folder structure. It saves your time and effort. In addition you can use special options to achieve perfect results:
Note that 5Mb of vector format file extropolates into 2Gb in graphic format like BMP. Total GIS Converter can scale the files for your convenience.
Total GIS Converter allows you to convert any part of your file. You simply select the area you want to isolate and the program converts it to the target format.

Total GIS Converter can cut large files into a number of sections. Users can set the size of each section.
Total GIS Converter is powerful enough to convert any number of GIS files in batch. It can be run via user interface or command line. Download your free trial version now!

Need a reliable full featured GIS viewer? Try Total GIS View Server.
| | | |
| --- | --- | --- |
| | | |
| | | (only $99.90) |