It is not surprising that many of you have never heard of 3GA. This is a new audio format developed by Third Generation Partnership Project for 3G UMTS wireless mobile multimedia services like MMS and others. It is used by such mobile phone manufacturers as Samsung and Nokia, but can hardly be played on a computer.
To listen to music in 3GA format on a computer, we suggest that you convert the files into another format. For example, APE would be a great choice. Do you wonder how to convert 3GA files to APE? You can convert 3GA to APE with the help of Total Audio Converter. Having been developed by CoolUtils, this audio converter can be rightfully called a cell phone converter. It supports 3GA and several other cell phone audio formats, and can easily export them into APE, MP3, WMA, etc.
To begin conversion of 3GA from phone to APE you need to download Total Audio Converter. It is available as a 30-day free trial version and as a fully functional paid version. We recommend you check out the trial first and see whether it meets all your expectations. You can upgrade to a full version at any time without the need to reinstall Total Audio Converter!

Once the converter has been downloaded, install and launch it. You can use GUI or command line, whichever you prefer. If you use command line, please, refer to a full list of commands supported by the converter. If you use GUI, please follow the steps below:

Select the 3GA audio files you want to export

Set APE as the target format

Click "Start" to begin conversion or adjust default settings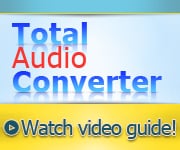 To convert 3GA files into APE (and many other formats!), choose Total Audio Converter! Try it now!