3GA is a new audio format developed by Third Generation Partnership Project for 3G UMTS wireless mobile multimedia services like MMS and others. It can be found in cell phones by such manufacturers as Samsung and Nokia. However, 3GA audio files cannot be played on a computer. If you still want to enjoy music from your mobile phone on a computer, you should convert files from cell phone. Want to know how to convert 3GA?
Use Total Audio Converter! This unique program from CoolUtils will quickly and easily export files from 3GA into a variety of formats, including lossless formats like FLAC!
To convert 3GA to FLAC using Total Audio Converter, please complete the following steps:

Download CoolUtils audio converter. It can be used without registration for 30 days if you get a trial version. Or you can pay the full low price and get a life-time license with 1 year of unlimited maintenance from CoolUtils.


Install and launch Total Audio Converter. If you use command line, please refer to the list of supported commands. If you use GUI, please, follow the steps below:
Select the 3GA files you want to convert from the list of files created by Total Audio Converter
Set FLAC as the target format by clicking on the "FLAC" button

Click "Start" to begin automatic conversion of the 3GA audio files into FLAC format!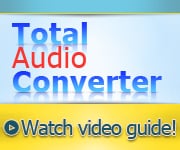 Besides that you can use a simple cell phone converter , you can also take advantage of Total Audio Converter! A variety of exta options, batch conversion mode, and much more - everything is for your convenience!
Download Total Audio Converter now and convert 3GA into FLAC without registraion key for 30 days! Contact CoolUtils support team to learn more about this and other products for file conversion, and special offers.