3GA tracks are playable on mobile devices, but standard desktop players may not support this format. If you wish to make 3GA files compatible with computer programs, you can convert 3GA to OGG file type. It is supported by Winamp, Windows Media Player and many other applications, and provides higher sound quality compared to MP3. Total Audio Converter performs such type of conversion and can do it in batch.

The program has comfortable user interface. Even if you don't know how to convert 3GA files, you will easily sort it out with Total Audio Converter. Nothing difficult is in this process. First you need to specify 3GA tracks that will be converted. This can be one or more files in one batch. Find proper folder and check off the files from the list. After selection is done, you need to press the 'OGG' icon at the top (image with yellow fish), and you will see the options menu popped up. It offers to setup the following:
Destination
Combine/Part
Samplerate
Channels
Quality
In the 'Destination' tab you can specify a folder where the OGG copies will be stored. When you convert many files in batch, you can combine them into one single OGG track. If only one file is converted, this cell phone converter allows cropping a piece of file and converting them to OGG. It's a great option for cutting fragments from different tracks and then compiling them together.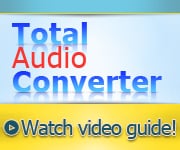 You can also setup the quality and audio parameters for the desired OGG files. It will help you to gain the best size-quality ratio. Before converting 3GA from phone to OGG, you can set specific samplerate. Bitrate is setup in the 'Quality' tab. You can also play with audio channels - switch either to mono or stereo.
Get this audio converter here. It is available in a 30-day free trial.