3GA audio format is mostly used in mobile devices for transmitting audio information in MMS, IMS and other services. If you have audio tracks in 3GA, they will not be read by standard computer players. Conversion to WAV solves this problem, and you can do it using Total Audio Converter. Here is how to convert 3GA to WAVE format in this program.
Total Audio Converter is developed for making audio files compatible with any devices and programs. It exports sounds from one format to another within a few mouse clicks. It is easy and quick that makes it suitable for inexperienced users or those who need to save time on such conversions. In order to convert 3GA to WAV format, go through these steps:
Open Total Audio Converter
Find the 3GA files that need to be converter
Check them off in the source list
Press 'WAV'
Make the settings (optional)
Press 'Start!'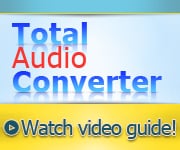 You can directly convert files from cell phone, if it is connected to your PC. The application recognizes portable memory cards and flash drives. This way you don't have to copy tracks to your hard drive. As this is a batch audio converter, it is possible to process all files in one cycle. As you see, the program saves your time on every step.
A range of settings you can apply helps to adjust quality and make some minor edits. For instance, when you convert 3GA from cell phone to WAV, you can adjust bitrate and samplerate, adjust channels (mono/stereo). Combining all sources into one big track is also possible.
When you deal with one 3GA file, you can cut a fragment from it and export it into WAV. It has a built-in player, where you can easily cut required part. It's the best cell phone converter for audio tracks in terms of functionality.
Download Total Audio Converter here and test it on real files.