PCX format is one of BMP alternatives with similar characteristics. Now it is quite out of date, but still used in specific image editors and publishing systems like Adobe Photoshop, GIMP, Corel Draw and many others. If you need to convert BMP images to PCX format, use Total Image Converter. This program supports a big variety of image types and can easily export graphics to them.
Besides simple data export, Total Image Converter allows adjusting the output formatting for maximally suitable result. For export to PCX this batch image converter offers the following:

you can resize and rotate original images

you can crop some fragments for converting into separate files

it is possible to change colors palette and background
You can set specific BW algorithm: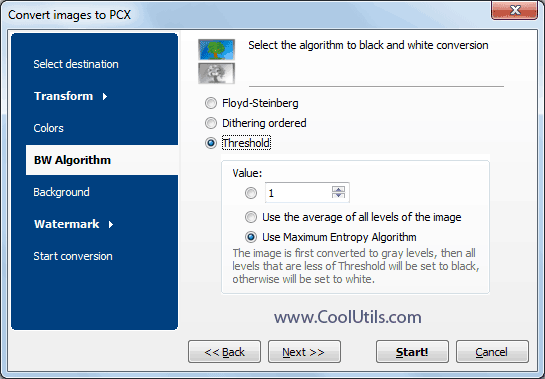 As images may contain some important information and graphics, they should be protected from unwanted use by third parties. In this BMP converter watermark protection is provided for this purpose. You can set either image or text watermark, or even a frame. All formatting and positioning is adjustable, you can adapt watermarks for your corporate designs. The watermark can be transparent, and level of transparency is also set in parameters. Moreover, a set of special effects is available.
Total Image Converter is a good time-saver, when you need to convert a lot of BMP files. Its data processing engine is powerful, so no need to wait until getting conversion results. Moreover, you can convert BMP to PCX in batch that means all files can be converted together, in one program cycle. They can be combined into one result file or each image is converted to a separate file.
You can test all modes for free, using trial version of Total Image Converter. It works for free during the first 30 days of use - quite enough to try all its features. Download it here!