CAD files often contain confidential information that should be protected from unwanted use. When you convert drawings to more common formats like JPEG or PDF, they can be viewed and shared widely, that is why data protection is critically important. With Total CAD Converter you can process CAD files and add watermarks in any place on sheets, stamping your authorship or classifying the data.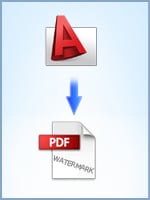 With the help of this tool you can convert CAD files to numerous formats, including:
PDF
TIFF
JPEG
HPGL
PS
DXF
There are more than ten available formats. Each one has the option for watermark protection. The parameters can be adjusted in the settings wizard that pops up after you select the target format. Just go to the 'Document' tab and select the proper position and type of desired stamp. This can be any text you need with specific formatting. For setting watermark, CAD drawings should not be edited additionally. It does not have to overlay the drawings, as you can specify any position on the page (some corner or side area). By selecting specific text type and size you can make it satisfy your demands.
Using Total CAD Converter you can convert CAD files and add watermarks in batch. This means you can setup the same watermark for all required drawings, specifying all parameters at once. It helps to save time and unite different documents under one single format. Some target formats have additional measures for data protection. For instance, in the case of exporting CAD to PDF you can also encrypt the converted copies by two levels of password and sign them with a digital signature. In such a way this CAD converter provides the highest possible security level for your drawings.
It is possible to try Total CAD Converter for free, to see how it works with your CAD files. It supports all major CAD formats which makes it suitable for all possible drawings.
Windows 2000/2003/Vista/7/8/10.