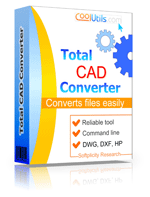 Windows XP/2003/Vista/7/8/10
CGM is an open format for sharing non-CAD 2D vector and bitmap graphics and text information. It is supported by many applications and viewers. It can be used for publishing vector data online, presenting CAD projects in compact interactive form. However CGM is rather specific format and its use is not always convenient. If you faced the need to convert CGM files to other graphic format, you will need a converter that supports both CGM and other required formats.

Using Total CAD Converter you can easily switch between various formats, exporting CGM graphic into any file type you like. This CGM converter supports 12 formats for conversion, among which are PDF, JPEG, PNG and even DWG. For instance, converting CGM into DWG you can turn it into full-format CAD drawing editable in AutoCAD. Other advantages of using Total CAD Converter are:
Adjustable conversion process (everything, starting with the file name and ending with paper orientation and compression filters can be set manually for the best possible results);
Fast performance (highly optimized program code makes it run really fast)
Ability to convert CGM files in batches: use one command to convert all the files you need; there is no need to do the same settings for each file separately;
Command line mode: this CAD converter can be used from the command line (all required parameters are described in details in Help menu);
Additionally to CGM, you can convert CAD drawings into any of 12 available image formats;
Default mode: to save time you can skip manual adjustments and use settings by default (in this case the whole conversion process is done within a few mouse clicks)
This is only a short list displaying the main facilities of Total CAD Converter for working with CGM graphics. It is suitable for those who want to waste minimum time for CGM conversion and always get high-quality results. Easy and effective converter is already open for purchase or trial testing.
Interface languages: English, Spanish, German, French, Russian, Japanese.