Total CSV Converter directly serves for exporting CSV files to different formats. But this is not the only feature it provides. With the help of this program you can combine a few CSV files together into one. The program processes CSV documents in the max quick manner, as combining and conversion is done in one single step!
Besides converting to other formats Total CSV Converter can save the original file type as well. As input format this program supports CSV and TXT, while the range of output file types is much wider:
TXT
DOC
RTF
PDF
TIFF
JPEG
HTML
XLSX
XLS
OpenOffice
DBF
CSV
XML
Each target format is provided with a list of settings that helps to adjust data formatting, the look-and-feel of future copies. User can choose specific delimiters, set data types and alignment for each column, set specific format for every data type. Having all this on board, Total CSV Converter correctly recognizes the content of CSV source files and ports it to a new format with the settings user makes.
User is free to convert each .csv source to a separate file or combine all .csv sources into one resulting file. In settings wizard there is an option 'Combine all documents to one file' that serves for merging documents together. Just check this option in the Destination tab, and program will output you a single file with all source data inside.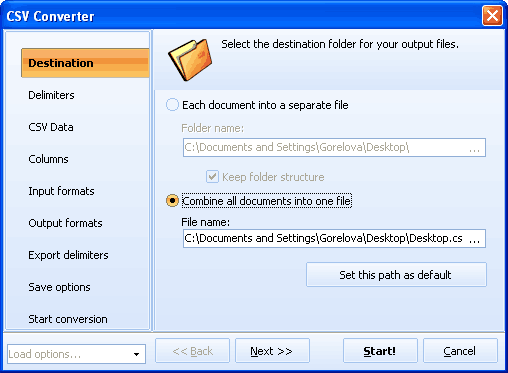 Specifying the same range of settings every time you need such conversions can be a routine, and Total CSV Converter offers saving configuration to a file. When you need to make similar conversions in future, just upload this file, and the program will read all parameters from there.
Total CSV Converter will efficiently merge many CSV files together and convert them to any of supported formats. No limitation in number of files and their size gives full freedom in optimizing your CSV files for storage and use. Try its 30-day free demo!