If you have some sort of data divided into a few XLS files, it is not convenient to use it like that for reading or for demo purposes. Total Excel Converter can combine XLS files into one PDF document that is comfortable for viewing, printing and sharing. This way you will also protect your information from any kind of modification, as PDF is a non-editable format.
For strengthening security of PDF copies Total Excel Converter features password protection and digital signature. Using these features you can restrict access to a PDF content.

In order to combine several XLS into multi-page PDF file, follow this:

Check required XLS sources in the file list

Press PDF at the top format panel

In the 'Destination' tab of settings wizard select 'Combine all' item

Specify any other settings you need

Press Start!
Additional settings allow changing paper format, font style, adding PDF properties, etc. You can skip them all and get information converted from XLS to multi-page PDF document that replicates original formatting. In order to apply password protection, go to the 'Document' tab. There you can set two passwords. One is for users with the full set of permissions, and second one is for limited access. For instance, you can allow reading only or reading and printing, without ability to copy, edit, etc.
Total Excel Converter supports both single and batch conversion. In batch mode you can either combine all original XLS tables into one PDF or convert each source to separate PDF file. In case of separate conversion the same access details will be set for each PDF copy, in case you apply password protection.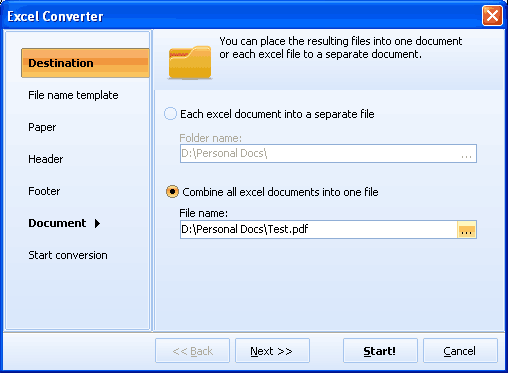 This powerful XLS PDF converter handles massive conversions of hundreds of files. It quickly combines them to PDF file, correctly exporting data tables. Download it here and test for free during 30 days.