In Microsoft Excel there is no ability to export data tables to TIFF. This option is not included into a standard feature package. Combining several XLS into multi-page TIFF file can be a problem too. However, Total Excel Converter solves it in a very easy and flexible way. With its help you can convert XLS to TIFF and combine a few files together within one click.
During the export to TIFF all information will be properly recognized and turned to graphic elements. All the content of XLS source files will be transferred to a TIFF copy.

In order to combine XLS files into one TIFF file, do the following:

Find the source fields and tick them in the file list

Press 'TIFF'

Check 'Combine all files' in the 'Destination' tab

Fill in header and footer information if needed

Set the paper size and orientation

Press 'Start!'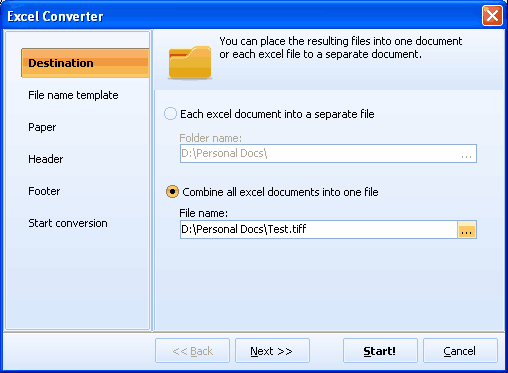 Basically paper, header and footer settings are optional. If you do not need to change anything there, just leave these parameters as they are. By default this XLS TIFF converter leaves header and footer empty and sets paper size as A4. TIFF is a multi-page format, so data tables will be split to pages of predefined size. Header and footer are fully adjustable. You can use them for bates stamping, signing the document, adding date and other information. The texts can be centered or aligned to one of the sides, and even the font style is adjustable.
You can use graphic interface or command line for converting XLS to multi-page TIFF file. In command line mode all parameters are set in text command that is sent to a program via cmd interface. It is a suitable way to run conversions in the quickest possible way.
Total Excel Converter can combine XLS files to TIFF, PDF, HTML, TXT and many other formats. Try it on for free during 30-days by using a trial version. Get it here!