When you need to combine multiple scanned images (TIFF files) into a single PDF, look no further than PDF Combine Pro. Able to process .tiff images (and many other file types) in batch on a folder by folder basis, PDF Combine Pro lets you create PDFs that contain the contents of entire folders! No other converter lets you work with batches of TIFF images in such a way. Normally you'd have to go through and slowly convert each image one by one into individual PDFs then merge all those PDF documents together. A time consuming endeavor to say the least.
With PDF Combine Pro such activities are incredibly quick and so very easy. All you need to do is specify the folders you want to combine, and click the Combine to PDF button. Note that PDF Combine Pro can combine TIFF, PDF, PNG, JPEG, XLS, DOC and many other file types to one multi-page PDF in one go!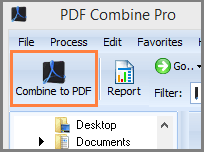 When the options window opens, click the Destination tab, and select 'Combine folders by file'. It's that simple. Using the PDF Combine Pro will literally save you hours that could be spent doing more productive work. Our convenient utility will automate the entire process while still leaving you in control of the output.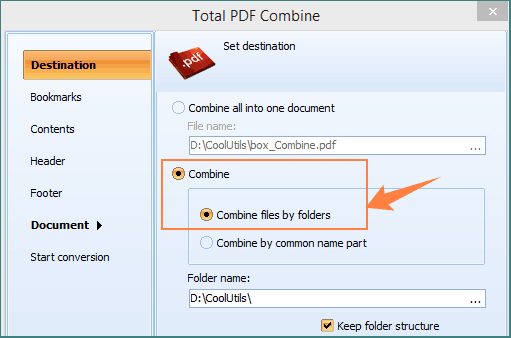 Loaded with lots of cool customization options, you'll find that your target documents are even cooler than the originals. Everything from command line access, to formatting and layout, to document encryption is at your fingertips. Why settle for the bare minimum when you can access this small but powerful tool and max out your project(s) potential today! Try it free for 30 days through our trial version.
Other companies may claim to do what we do, but they're not even close when it comes to the possibilities we offer our customers. With close to 15 years worth of development going into our converters, we've thought of pretty much everything. And our users have helped us along the way through their excellent feedback!