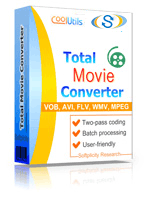 Windows XP/2003/Vista/7/8/10
AVI, which stands for Audio Video Interleave (also Audio Video Interleaved), is a video format developed by Microsoft in early 1990's. Although this format is widely supported by different applications and digital devices, it is rather outdated. There are many competing formats, such as MKV, OGG and MP4, which are more recent and solve the problems associated with AVI.

The easiest way to avoid problems is to download movies in formats other than AVI. However, in situations when you have no choice but download a film in AVI, you should convert AVI to MPEG 4. This can easily be done with the help of specialized software known as AVI MPEG4 converter. Applications developed by various software companies can be found online for free or paid download.

You are strongly recommended to try Total Movie Converter by CoolUtils if you are looking for a functional MPEG4 video converter. Unlike many other programs, this video converter is suitable for processing of movies in dozens of different formats including AVI, MPG, WMV, MPEG, FLV and many more. There are many reasons to prefer this application to other converters. Its top 3 advantages are:
Video to device function
With the help of this function you can convert avi videos for iPad, iPhone, Zune, Apple TV, Archos, Creative Zen Vision, Xbox and other devices in a couple of clicks. All settings are already there for you, so there is no need to read tons of information on compatibility of gadgets and formats.

Support of video portals
Total Movie Converter is great for those who need to download and convert movies from such popular websites as YouTube, Vimeo, and Sevenload. Simply enter the URL and click on the "Start" button to launch conversion process.

Built-in video player
This video converter is a great way to play videos in the weirdest formats. The built-in video player allows to not only preview movies but also to enjoy them for hours.
If you want to try Total Movie Converter by CoolUtils for free for 30 days, simply download it now! There are no hidden fees!