Windows
2000/NT/XP/2003/Vista/7

There are a lot of reasons why information in DOC file needs to be converted to HTML. There can be information you would like to publish as a web page or you want it to be viewed with the help of web browser. Simple resaving DOC as HTML will not help, all you will get is a strange set of symbols instead of text. To transfer information from DOC to HTML properly you will need Total Doc Converter. This simple and compact utility is able to do any type of conversions with MS Word files. For instance, user can convert DOC files to the next formats: • HTML • PDF • JPEG • XLS • TIFF • RTF

As for converting files to HTML this DOC converter will do the most of job by itself, offering user to do all settings with the help of smart and handy options wizard. As a result the process of conversion takes a few seconds, regardless of how many files you convert at a time.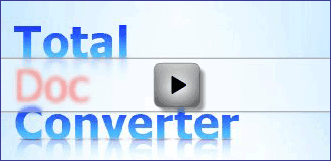 In general, you will need to pass through three simple steps:
Select sources for conversion. These are DOC file or files you would like to turn to HTML. Use the handy navigation panel inbuilt directly to the program window. It will save a lot of time.
Enable DOC HTML converter by pressing 'HTML' button from the target format bar. It is named 'Convert to' bar, you will find it directly over the navigation panel.
Do required settings and enable conversion. If needed, you can set specific font name and size for the future HTML files, if you need the information to be displayed in specific way. Then click 'Start!' button and that's all!
The process is equal to any number of sources. You can check off a hundred of source files or even file folders, and all of them will be converted to HTML at once.

Download Total Doc Converter right now and save your time and efforts with its help.