| | | |
| --- | --- | --- |
| Convert Doc to Tiff Like a Pro | | (only $49.90) |
Working with professional bitmapped graphics, users usually feel necessity in transforming text documents into Tiff format. It is the most widely used format in the print shop, where it is a common deal to operate with various file types, converting it into images.
Tiff file format has a complex structure with lots of service information, tags, etc. That is why it is extremely important to perform transformation correctly, to make Tiff files suitable for further processing. Total Doc Converter will ideally suit your purposes, as it can transform Doc into Tiff within a few seconds, creating high-quality and correct Tiff versions.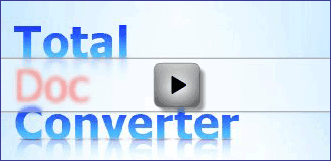 This Doc converter differs from other solutions by simplicity and powerful set of options. All you need is carefully gathered in one easy-to-use program with clear interface. To convert Doc to Tiff you only need to select necessary Doc file and click on 'Tiff' button on the formats panel that is located at the top of program window. After this you will see the wizard that will guide you through options settings. If you don't have time to make adjustments, you can simply click on 'Start!' button, and conversion will be made using settings offered by default. Or you can select specific conversion type (ZIP, LZW, Jpeg, etc.), paper format and font style. In this case you will get Tiff version in full accordance with your requirements. There are two modes – converting all pages in one file or every page in separate file. If needed, you can set to delete source file after conversion.
Such range of facilities and variants of action makes Total Doc Converter suitable for any user. Professionals can make Tiff files with specific settings, common users can use default adjustments. The result will satisfy your needs in any case, and this is the main advantage of Total Doc Converter. Make sure in this by yourself - try it right now!
Related topics
Convert DOC to XPS professionally
Convert Doc to TXT in batches.
Convert DOC to Unicode without any problems
Convert DOC to XHTML and to other formats.
Convert Doc to XLS keeping quality
Convert Doc to HTML file format
Convert Doc to Rtf. Save time, it's easy.
Convert files Doc to Text in batches
Convert files from Doc into Jpeg
How can you convert Doc to PDF document?