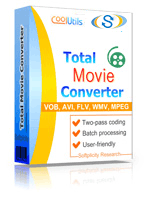 Windows XP/2003/Vista/7/8/10
FLV, or Flash Video, is a file format used to save video and share it with the help of Adobe Flash Player versions 6–10. It is very popular among users who prefer to post videos on websites. As such, the most popular portals that use the FLV technology are YouTube, Hulu, Google Video, Yahoo! Video and more.

The bad thing, however, is that a special FLV player is required to play these files from personal computers or laptops, not Internet. To avoid the need to download such an application, which has very limited functionality, you are recommended to convert FLV to MPEG4 – a very popular video format.

The easiest way to convert video files from flv to MPEG 4 is download a video converter. If you google "mpeg4 video converter" you will see that there are hundreds of programs available for download from various software developers. If you are the one who values great quality at a reasonable price, you should consider getting Total Movie Converter. It was developed by CoolUtils, software developer with more than a 10-year experience in design of converters.

Total Movie Converter is not simply a FLV MPEG4 converter; in fact, it is an all-purpose application that allows to process movies in dozens of formats. They include but are not limited to WMV, DIVX, XVID, VOB, DV, DIF, MOV, MPG, MPEG, MPE, M1V, M2V, MPV, MPEG4, M4V, MP4, ASF, MKV, 3GP, 3G2, and many more. Also, this video converter is great when it comes to editing movies (change codec or system type, adjust audio or video bitrate, volume, frame rate, and more). Built-in video player is very useful for those who prefer not to clutter up their computers with video players of different types. Video-to-device function allows you to easily convert video to a format supported by such gadgets as iPod, iPhone, Xbox, PSP, Zune, HTC, iRiver, Apple TV and many more.

To learn what other advantages Total Movie Converter by CoolUtils features, download it now! Check out the free trial version or buy it now for less!