With the help of Total Thunderbird Converter Pro you'll be converting your Mbox emails to PDF documents in no time at all. Many of our communications occur through email clients like Mozilla Thunderbird these days. Our inboxes begin to fill up quickly, and this causes them to run slower. One solution is to clear inbox space by archiving older emails; essentially saving them to documents on your hard drive. Where storage is concerned PDF is an excellent option. Using our utility, you can convert MBox to PDF and keep your computer running smoothly.
Have emails with attachments? Our converter can handle those as well. Whether you'd prefer to convert your email text and attachments to the same format, or different formats, both options are available. For instance, let's imagine you'd like to convert an email that includes a XLS spreadsheet attachment. You want to save MBox to PDF but have the spreadsheet file remain XLS. No problem!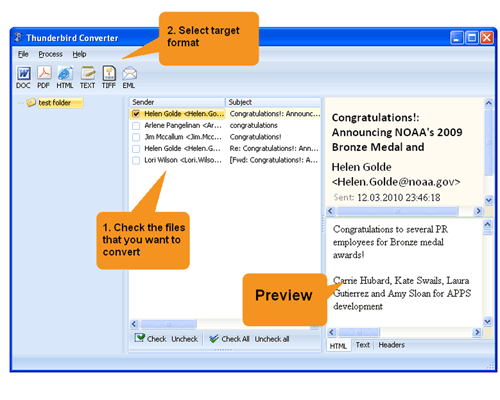 Our Mbox converter is loaded with useful options allowing you to customize your conversion projects however you see fit. Using our converter you'll be able to:

Convert attached files.

Combine several emails into a single PDF.

Export based on selected fields (sender, recipient, date, subject, etc.).

Add page numbers.

Define margins/paper size.

Choose compression levels.

Include custom stamps (ex: "confidential").

Assign new descriptive names.

Create non-searchable PDFs.

Set to PDF and PDF/A.

Apply digital signatures.

Include user permissions.
...and so much more! For the more advanced users, we've even included direct access to the command line. Prefer to work through a GUI? That's available too!
Unlike other conversion utilities out there, ours is designed to give you a fully interactive, user-friendly experience that lets you call the shots. When you convert MBox to PDF using the Thunderbird Converter Pro you will actually be creating a target document that's better than the original. Give us a try today. Check out our 30 day trial download and experience the best in professional conversion tools.