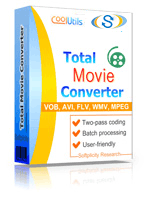 Windows XP/2003/Vista/7/8/10
Many users oftentimes face a problem when playing MKV files (Matroska Multimedia Container). This format is an open standard free container format that can store an unlimited number of video, audio, picture or subtitle tracks inside it. It is considered a relatively new video format, which typically cannot be played on computers, where out-of-date codecs are installed. Of course, the easiest way for sophisticated computer users is update the video codecs. However, novice users might be unable to perform this action and, thus, won't have a chance to play MKV files. If you fall into the second category or, for some reason, do not want to update video codecs, you should convert MKV to MPEG4.

The simplest way to complete this process is download MKV MPEG4 converter. Although it is typically very easy to use and free, the bad thing about such an application is its limited functionality. As a general rule, mpeg4 video converter cannot be used for purposes other than MKV-MPEG4 conversion. Therefore, if you are looking for extended functionality, you should consider downloading all-purpose video converter.

One of the best all-purpose converters available online is Total Movie Converter. Having been developed by CoolUtils, software developer with deep expertise in design of application for video, audio and photo conversion, this tool is preferred by thousands of users worldwide.

It is perfect for such complicated tasks as:
Conversion of MKV videos to digital devices. Default settings for conversion of videos in all formats to such gadgets as iPhone, iPad, iPod, Apple TV, Zune, iRiver, PSP, PS3 and many more are already there in Total Movie Converter.
Download of videos from popular websites. All you need to do to download a music video from such online portals as YouTube, Vimeo and Sevenload, simply enter the URL and press "Start."
Rip DVDs. Total Movie Converter is the greatest way to rip DVDs and preserve the original quality of movie files. DVD ripping can be completed in a matter of a few clicks.
Extract audio from video files. With the help of Total Movie Converter, you can extract audio from video files. This option oftentimes turns out to be very handy for music lovers.
Download trial version of Total Movie Converter now and use it for free for 30 days! Convert as many MKV files as you want.