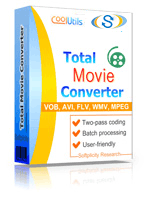 Windows XP/2003/Vista/7/8/10
MPEG, which usually stands for Moving Picture Experts Group, is a working group of the ISO and also a family of digital video compression standards and file formats. There are many advantages that this video format has, but one of the most important is their size. MPEG video coding format allows to save movies in files that are much smaller than files in other formats, and yet preserves their high quality. This is possible due to sophisticated compression techniques.

However, in certain situation users face a need to convert MPEG to MPEG4. Since these formats are part of the same family, the conversion process can be completed very easily. The only thing required to change the format is download specialized mpeg mpeg4 converter. This application will help you easily and efficiently convert MPEG files to MPEG4.

Or, if you want to be able to process video files in formats other than MPEG and MPEG4, you can download video converter. Unlike mpeg4 video converter, this program can be used to deal with files saved in such formats as to WMV, DIVX, XVID, VOB, DV, DIF, MOV, MPG, MPEG, MPE, M1V, M2V, MPV, MPEG4, M4V, MP4, ASF, MKV, 3GP, 3G2 and many more.

Consider trying Total Movie Converter developed by CoolUtils if you want to get great quality for affordable price. This application is designed to convert dozens of video formats in a matter of simple clicks. Check out the trial version of Total Movie Converter available for free download to see that:
This program is very easy to use.
Not only advanced computer users can convert mpeg to mpeg4 in less than 30 minutes. Beginning users can enable the built-in step-by-step wizard or watch online how-to slideshow to understand how the application works.
This program is very functional.
Total Movie Converter can be used to convert videos to various devices, such as iPhone, iPod, Zune, iRiver, xBox, PSP and others. Also, it can be used to edit videos (change their video and audio bitrate, increase/decrease volume, etc.) and even download videos from YouTube.
This program is very affordable.
Unlike other conversion software, which oftentimes is priced at over $100, Total Movie Converter can be purchased for less than $30 after a free 30-day trial period.