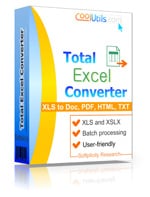 Interface languages: English, Spanish, German, French, Russian, Japanese.
Windows XP/2003/Vista/7/8/10
The handiest way of optimizing ODS file to publishing online is to convert ODS to HTML. Automatic conversion helps to avoid syntax errors that usually happen when doing this manually. Moreover, it will save quite a lot of time. The only tool you need for this is Total Excel Converter that will turn your Open Office tables to ready-made HTML pages.

The program offers handy ODS converter with settings wizard, using which you can set all parameters in a few seconds. It offers such settings as:
Destination (location for HTML copies)
Convert every page to a separate file
File name template
The great advantage of this utility is its ability to process any number of ODS files in one batch. This means you can convert as many sources as you need. The program works in a few modes. You can run ODS HTML converter either from GUI or from the command line.
Total Excel Converter is designed maximally simple and clear. Every action is automatically followed by the next one, the program's interface prompts you what to do. In order to convert OpenOffice to HTML, do these actions:
Open the program and choose the folder with sources in the left-hand menu.
Mark required source files from the content list that was opened in the central section.
Press 'HTML' button in the upper format bar.
Run through the inlays of popped up settings manager to set necessary parameters.
Press 'Start!' and wait a second.
After these simple steps you will get exact copies of your ODS sources in HTML format. You can view them in the web browser or in-built their code into website pages to arrange proper data presenting. The code produced by Total Excel Converter is correct and doesn't need any editing.
With this utility ODS conversion will become an easy crip. Try it now for free!