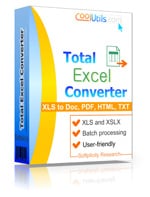 Interface languages: English, Spanish, German, French, Russian, Dutch, Swedish, Italian, Portuguese, Czech, Japanese, Chinese, Korean.
Windows XP/2003/Vista/7/8/10
By converting ODS files to TIFF you can make them viewable in any graphic viewer, it helps when there is no Open Office software. Besides this TIFF format is good for faxing and graphic design editing. A program that you need for this is Total Excel Converter. It can convert ODS to TIFF in a way suitable for any kind of user. Its simplicity and usefulness together with comfortable interface make the converter one of the best solutions on a market.

After launching a program you need to select source files for conversion. For doing this the ODS converter has a handy navigation menu – all your memory folders tree is displayed in the left-hand panel. Just click on the right folder and you will see its content in the file list. You can check sources in different ways:
One file if you need to convert a single ods file
A few files for batch ods conversion
Use 'Check All' feature to select all files from the folder as sources
If the folder contains subfolders, you can also check off them as sources. In this way all ODS files they contain will be converted. Total Excel Converter contains a lot of convertsion modes. If you need to use ODS TIFF converter, just select ODS sources and press 'TIFF' in the format bar on the top of the window. You will see settings manager popped up, it offers a few setting options:
Destination
Combine all sources into one file
File name template
Convert every page into separate file
Paper format
You can set any option you need and skip the rest – all of them are optional. Also you can convert OpenOffice to TIFF with default settings. The converter is very flexible, you always can adjust it to your needs. Total Excel Converter is open for downloading, try it now!