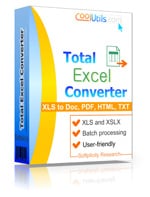 Interface languages: English, Spanish, German, French, Russian, Dutch, Swedish, Italian, Portuguese, Czech, Japanese, Chinese, Korean.
TXT format is ideally suitable if you need to extract text information from ODS files and make it readable by any standard document editor. OpenOffice software is quite popular, but it has lots of alternatives. TXT is supported by all these applications. In order to convert ODS to TXT, use Total Excel Converter.

This utility performs smooth conversions with correct data transfer from one format to another. All information will be converted properly and very quickly. For converting OpenOffice to text Total Excel Converter provides a few useful adjustable settings that may help you to get better conversion results. These are:
Destination: you can set the location for your future TXT copies, this can be your PC memory or some portable drives
File name template: when converting many ods files in batch, you can set file name template for the future files. This helps to arrange them in proper order
Every page into a separate file: you can separate source ods files into pages and convert each page to separate file
Combine all sheets into one file: you can join all ODS sources together into one TXT file
Setting text delimiter: choose any delimiter you want.
These options helps to adjust ODS text converter in the way you need. You can also use default settings without any manual adjustments. Total Excel Converter works automatically, you only need to choose sources, TXT format for conversion and click 'Start!' to enable the conversion.
You can manage ODS converter from the command line. In this way the program works without need to launch its interface. It is very time efficient and fast way to convert any number of ODS files within one simple text command. All required options are described in Help menu.
You can try Total Excel Converter at any moment, as its trial version is fully free. Download the program now.
Windows XP/2003/Vista/7/8/10