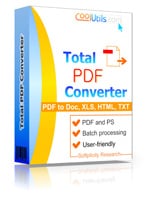 Windows XP/2003/Vista/7/8/10
Interface languages: English, Spanish, German, French, Russian, Japanese.
Total PDF Converter is a user friendly tool that converts PDF files to WMF and many other formats. This is a new software utility, and it is available online. It has helped many business people and employees ease and speed up their work, because it frees you from a lot of routine manual work. With Total PDF Converter, you can convert as many PDF files to WMF as you want, and this will be just as quick as converting one file.

What's WMF? WMF (Windows Metafile) is a graphics file format on Microsoft Windows systems. Originally, it was meant to be portable between application featuring both vector and bitmap elements. For this reason, WMF files may contain raster graphic elements (JPEG, GIF, etc.). However, generally, they are intended for storing content performed in drawing and presentation applications.

Why Use Total PDF Converter to Convert PDF to WMF?
Total PDF Converter renders PDF files in different formats. Most important, it supports different types of PDF files, including those containing bitmap elements. This means that if your source PDF file contains electronically represented bitmap data (images), it will be present in the target WMF file.

With Total PDF Converter, you are not going to have to do any manual action to save an image in your target file. This is a unique and easy-to-use software tool that does the entire work for you. All you need to do is launch the utility and specify the files you would like to convert. The program has a robust and handy interface that leaves no questions. All target formats are aligned on the toolbar and in the Convert menu.

With Total PDF Converter, you can render dozens of PDF files in WMF using batch conversion mode. This is no more time-taking than converting one file. Total PDF Converter integrates into Windows, so you can convert PDF files to WMF right from the desktop. If you have the licensed version of the product, you can enjoy command line support.

Total PDF Converter is available for online purchase. You can also download the trial version for free and use it for 30 days. We hope you will like the way it works! Buy the registered version right now and get all the upgrades and tech support for free all the time!