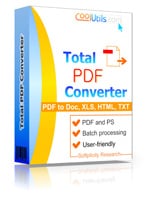 Windows XP/2003/Vista/7/8/10
Interface languages: English, Spanish, German, French, Russian, Japanese.
If you want to make your PS files available for viewing online, you should convert PS to HTML. This is the easiest way to create correct Internet content from PS sources. After such conversion you can post PS file as a single HTML page or separate HTML page for each PS document page. Also HTML conversion allows to in-build PS file into website structure by copying HTML code into the page body.

To do all this you need PS converter with HTML support. This application will help to do the conversion job quickly without any manual coding or copy-pasting. One of the handiest solutions is Total PDF Converter that supports both PS and HTML. With this program the process of PS conversion adds up to several clicks in the options menu.

To enable HTML converter inside the program, you need to click on 'HTML' button in the format bar that is located on the top of Total PDF Converter window. You will see the options menu opened. Here you can select a location for the future HTML copies, select specific parts of PS content to be converted (text, shape or/and images) and switch to converting all pages into one file. For better convenience you can also set the automatic delete of PS source files after conversion.

The key advantage of Total PDF Converter is ability to process numerous PS sources in one operation. You can select as many source files or file folders as you want, set the common options for them and convert them in one cycle. This will help to spare a lot of time and especially convenient when dealing with huge content volumes.

Those who like to work through the command line will also find Total PDF Converter comfortable. Using this app you can easily convert PS to HTML from the command line. The required parameters you will find in the Help menu of the program. Total PDF Converter is already released, you can buy it online or test a free trial version.