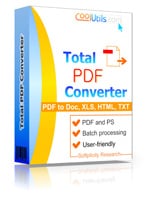 Windows XP/2003/Vista/7/8/10
Currently PostScript format is widely used for sharing documents in the Internet, as an alternative to PDF. Sometimes it is necessary to create graphic listings of PS documents for demonstrating their content on the web, use in design or various other purposes. JPEF format has much bigger compatibility and is very compact in size, that makes it one of the best choices among graphic formats for converting PS files.

Total PDF Converter offers to transform PS to JPEG in an easy and fast manner. The program works very quickly and can process dozens of PS files simultaneously. Moreover the process of conversion is fully adjustable, provides you with all necessary settings for the best quality you need. This PS converter is an all-in-one solution for working with PS formats, and converting PS to JPEG is one of its numerous features.

When opening a program, you will see the format bar on top with all available formats listed, and the navigation section with left-side folder list and central file list sections. Here all your memory folders and files are displayed and you can easily find the PS source you need for conversion. To enable PS JPEG converter you should check the PS source (or sources) in the file list and click on JPEG button in the format bar. In the appeared window you are welcomed to set
the destination address for JPEG copies;
the quality level of the output image;
image PDI resolution;
the file name template (example: [Name].page#.jpg);
a range of pages for conversion (if you need to extract a specific part of PS file).
Also you can create a single JPEG file with all PS pages combined. If you just need to get a JPEG copy of your PS file without any special requirements, skip the adjustment process and simply click on 'Start!' button in the options wizard window.

Get ready for easy and fast conversion of PS files. Buy Total PDF Converter online and forget about exhausting manual conversion!

Interface languages: English, Spanish, German, French, Russian, Dutch, Swedish, Italian, Portuguese, Czech, Japanese, Chinese, Korean.