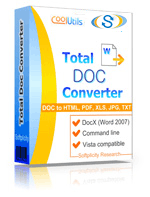 Download
Windows 98/2000/NT/XP/2003/Vista/7
Interface languages: English, Spanish, German, French, Russian, Dutch, Swedish, Italian, Portuguese, Czech, Japanese, Chinese, Korean.
Word is a well-known format used to save text files created with the help of Microsoft Office Word. Jpeg, in its turn, is an image format that uses lossy technology for compression of files; it is the most common format used by digital devices.

You might wonder why someone would want to convert a text file into an image file. Well, the answer is simple: image files are easier to be shared over the Internet and arranged into a slideshow. To convert Word to JPEG, many people prefer to use online word converter. However, these programs cannot always guarantee 100% quality of conversion.

This is why sophisticated computer users oftentimes choose to download all-purpose doc converter. One of the best programs of this type available online is Total Doc Converter developed by CoolUtils. You might want to know what makes this application so special and different from other conversion software. Well, here is a short list of advantages of CoolUtils Word JPEG converter:
Simplicity
This software has very user-friendly interface, which makes the program easy to master for beginning and advanced users. Also, a free step-by-step slideshow is available on the website for those who need visual instructions.
Efficiency
Total Doc Converter can be used to process Word to JPEG as well as to other formats. They include HTML, PDF, XLS, TIFF, and TXT. Input formats are: DOC, DOCX, RTF and TXT. In addition to this wide variety of supported formats, CoolUtils converter allows to define the characteristics of the output file (font size, type, style) and even use wordwrap.
Affordability
Unlike many other converters, Total Doc Converter is very affordable. You can purchase this powerful word to jpeg conversion tool for less than $50 and have it customized for free! Simply contact CoolUtils and let us know what options you want to add or remove and we will gladly do our best to help you!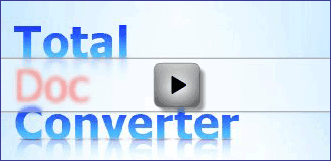 To decide whether Total Doc Converter is the converter you are looking for, download its free trial version and enjoy it for 30 days at no charge!