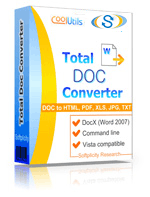 Download
Windows XP/2003/Vista/7/8/10
Interface languages: English, Spanish, German, French, Russian, Dutch, Swedish, Italian, Portuguese, Czech, Japanese, Chinese, Korean.
TIFF, Tagged Image File Format, is a special format designed to store images. It is particularly popular among users of Apple laptops as well as professional graphic designers and photographers. Word, in its turn, is a text format designed to save files created with the help of Microsoft Office Word.

Those who work with professional bitmapped graphics do have to transform word documents into Tiff format. If you are one of these users, you might want to have a special program designed to convert word files.

You can use online word converter to transform word to tiff file by file, but a better option you have is downloading doc converter. Consider checking out Total Doc Converter by CoolUtils. Being developed by a software company with more than 10-year experience in design of conversion software, this program is the best seller.

CoolUtils' word tiff converter is very functional as it supports many formats. As such, with the help of Total Doc Converter you will be able to convert doc and tiff as well as other formats, including docx, rtf, txt, html, pdf, xls, and jpeg.

Not only does CoolUtils guarantee 100% quality of conversion and preservation of files' original characteristics, but also it gives you an opportunity to pre-set the features of the output file. For example, you can decide what font type, size and style should be used in the output document.

Download Total Doc Converter from CoolUtils now and use it for free for 30 days! The trial version will allow you to evaluate the quality and functionality of the software and decide whether it meets your needs. There is no obligation or hidden fees!

Once you decide to purchase the program, contact CoolUtils and let us know whether you need to customize Total Doc Converter. We will gladly add or remove any features you list absolutely at no charge.

There is no need to wait. Download Total Doc Converter and make it your personal tool right now!