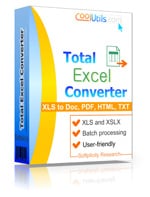 Interface languages: English, Spanish, German, French, Russian, Japanese.
Windows XP/2003/Vista/7/8/10
If you have grown tired of browsing for Excel Converters, there is a salvation out there. Total Excel Converter will solve all your problems. It will save you a lot of time and effort. You will have no problem converting Excel to Access any more!

Total Excel Converter supports a variety of formats and is apt to make a spread sheet created in any utility compatible with your viewer. Other advanced features include batch function and command line support. It does not take a lot of brain racking to figure out how it works. The program features an intuitively laid out interface, which will guide you through the whole conversion process. The handy wizard will help you make your settings.

Use Our Excel Access Converter!
Now you can convert Excel to Access without much effort on your part. Indeed, most of the work is done automatically. Actually, there are just three Cs that you are required to do: Choose, Check and Click! The fourth C – Convert – the program will do automatically!

Just Choose the folder with your Excel documents in the folder tree and Check the files that you wish to convert to Access. If you would like to XLS to Access in batch, click Check all. All the files will be checked automatically. When you have marked your files for conversion, click Access.

The handy wizard will help you make your settings, which you can either leave as they are or adjust your own way. This is best skipped if you are not experienced enough. Total Excel Converter integrates into the right-button popup menu. This is very handy, since you can transform Excel to Access right from the desktop. Right-click on an Excel file and select Convert to to launch the interface. Then specify your target format and make your settings.

Total Excel Converter features command line option, by aid of which you can run the program from within any other utility. This program is available online. If you are not ready to buy the license version yet, please, download the free demo version and use it for 30 days. This is quite enough to see how good it is! Registered users are entitled to free tech support and regular upgrades.