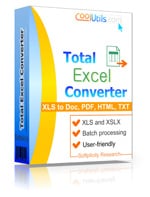 Interface languages: English, Spanish, German, French, Russian, Japanese.
Windows XP/2003/Vista/7/8/10
XLS format is very convenient for editing and viewing text tables, that is why it is very popular among users. Nevertheless uploading tables to websites or using them for other application require converting Excel to CSV format that transforms table structure into plain text, where table cells' values are separated with coma or semi in the line.

If you need to convert XLS to CSV easily and fast, there is no better solution than Total Excel Converter. This application supports both these formats and can easily turn your data from one format to another. Besides CSV, Total Excel Converter is capable of converting files into PDF, HTML, TIFF, JPEG, TXT, DBF.

Total Excel Converter supports reverse conversion that means you can switch between any pair of formats. XLS converter has in-built Preview feature. It is enabled easily by checking the XLS source file from the navigation panel.

How to Get CSV from XLS?
When you check the source file, press "CSV" in the format bar. You will see the XLS CSV converter popped up. It has several inlays where you may do all necessary settings.
Select destination. This inlay is responsible for setting the location for CSV copies of XLS sources you selected.
Text Options. Here you can choose the text delimiter you need from the offered list or specify your own parameter for this option. Also you can combine all XLS sheets into one file by checking the option of the same name here.
Start Conversion. This inlay displays all the settings you've done and offers two additional options for deleting the origins and opening the destination folder after conversion.
You can skip first two inlays and only click "Start!" on the third one. In this case you will get CSV files with default options set. Converting XLS to CSV is very simple with Total Excel Converter. Buy it now and make your files suitable for any need!