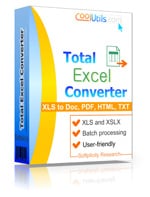 Interface languages: English, Spanish, German, French, Russian, Japanese.
Windows XP/2003/Vista/7/8/10
Moving from Excel to OpenOffice, you will definitely need a tool for converting XLS tables into ODS format that is supported by OpenOffice applications. OpenOffice is widely used as a free open document editor and viewer, it is the most popular alternative to MS Office. Both packages have almost the same functionality, but support different file formats. Instead of XLS OpenOffice supports ODS table format, that is why you will need a converter to perform the XLS to ODS export. Total Excel Converter offers comfortable solution of this task, suitable for any user regardless of skills and purposes. It provides with powerful feature package that includes numerous conversion modes, like the following:
XLS to ODS
ODS to XLS
XLS to PDF
XLS to CSV
ODS to TIFF
ODS to PDF

Each conversion mode is very easy to use, this made Total Excel Converter one of the most popular office converters.
How To Convert XLS to ODS?
The process of exporting XLS file into ODS format consists of a few simple steps:
Check the XLS file you need to convert in the file navigator (the central window panel).
Enable ODS conversion mode by clicking on ODS button in the format bar (top line under menu bar)
In the popped window specify the destination for the future ODS copies and click on "Start!" button.
Regardless of the number of files you need to convert, the order of actions will be the same. If you don't want to perform conversion using the program interface, you can make it with the help of the command line. All necessary parameters are given in the Help menu. Total Excel Converter is available online. Buying a license, you will be given a full-functional excel converter with the support of all popular data formats. It provides unlimited conversion facilities for home and professional use!