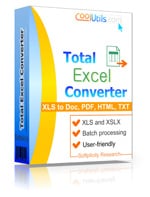 Interface languages:
English,
Spanish,
German,
French,
Russian,
Japanese.
Windows XP/2003/Vista/7/8/10
XLS is a Microsoft Excel native format for storing electronic tables. Its support by non-Microsoft text editors is limited, some of them are able to export/import XLS tables, but in most cases it is impossible to work with XLS files when running Mac OS or Linux. To solve this problem you can convert XLS to RTF that is considered to be an open cross-platform format for storing various documents. XLS files converted to RTF have the same table structure just in more flexible format.

Converting XLS into RTF you make your documents compatible with TextEdit editor of Mac OS X, as well as OpenOffice for Linux and many others. To do this you need a spread sheet converter that supports RTF conversions. Total Excel Converter perfectly suits these requirements.

Total Excel Converter supports about 20 formats for converting XLS files. Among them are: • DOC • RTF • TXT • PDF • TIFF • JPEG • SQL • XML • HTML

The conversion process is identical for all formats. XLS RTF Converter can be enabled in two ways:
Using the program interface you can define necessary XLS source files and click on 'RTF' button in 'Convert to' bar. Then you will be offered to make a few settings for conversion. If you wish, you can convert files using default settings.
Converting XLS to RTF can be handled via command line. A simple command like ExcelConverter. Exe C:\Documens\index.xls C:\Converted\index.rtf –c rtf will convert index.xls file located in C:\Documens to index.rtf file located in C:\Converted folder. All required parameters are described in details in Help menu of the program.
You can use Total Excel Converter clicking with the right mouse button on a XLS file and selecting in the context menu 'Convert to' option.
If you wish, Total Excel Converter can automatically delete XLS originals after conversion is finished. The software is already available for downloading, you can purchase it or test in trial.