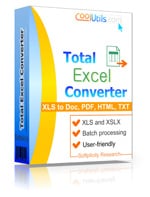 Interface languages: English, Spanish, German, French, Russian, Japanese.
Windows XP/2003/Vista/7/8/10
Total Excel Converter is one of the most versatile file conversion utilities. It supports a variety of formats and converts Excel to TIFF, PDF, ODN, TXT, Word (both Doc and DocX), XML, ODS and many other formats. The program has a robust and intuitive interface, so even novice users can promptly figure out how to operate the program.

This Excel TIFF converter features batch function and tailors spreadsheets created in other applications to be compatible with your viewer. Now you can convert XLS to TIFF in batch; in other words, you can select as many Excel documents as you wish and render them in your desired format in less than no time.

How to Convert XLS to TIFF
This is much easier than you have thought so far! The program does the job by itself. You are only to watch and guide it your desired way. In fact, you are only required to select folders and files and adjust conversion parameters.

In order to convert Excel to TIFF, you must do the following:
Launch the program and select the folder with Excel documents in the folder tree in the left-hand part of the interface. A list of files contained in it will appear in the middle section.
Check-mark one or more files
Click TIFF in the format panel on top of the interface or use Convert menu.
To batch-convert, click Check all button. All the files contained in the folder will be checked automatically. Then select TIFF. The automatic wizard will help you adjust your settings. You can either leave the default settings or specify your own parameters.

Total Excel Converter features command line option, by aid of which you can manage your files from within other applications. The program integrates into Windows, so you can right-click on a file and select Convert to. Managing files from the desktop is very handy.

Total Excel Converter is available online. You can either buy it right now or use the 30-day demo version to test it. Registered users will receive free tech support and upgrades on a regular basis.