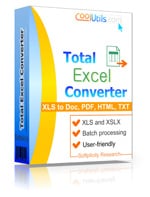 Interface languages: English, Spanish, German, French, Russian, Japanese.
Windows XP/2003/Vista/7/8/10
Total Excel Converter is one of the fastest and easiest to work with file conversion tools. It supports a broad array of formats and therefore eases the lives of those who have to work with electronic tables on a daily basis. Featuring a handy interface and an automatic wizard, it requires minimum effort on your side.

The program features batch function, which enables you to convert XLS to Text in large quantities in less than no time. Besides, it fits spreadsheets created in various programs to your current viewer. Total Excel Converter will help you leave your hard times behind. Now, all you need to do is select and click. Actually, the program does the whole thing automatically. You are only required to guide it your way.

How To Use The XLS TXT Converter
Converting Excel to Text is an easy game. In order to render your Excel documents in TXT, you should:
Select the folder with Excel files in the folder tree
Check the files that you with to convert to Text
Select Text as your target format
These are just the three simple steps you should perform. By aid of the automatic wizard, you can set your own conversion parameters. However, it requires a bit of experience. If you are uncertain about settings, please, skip it and use the default settings.

If you would like to convert many files to Text, use batch option. Select the folder in the folder tree and click Check all. All the files contained in the folder will be check-marked automatically. If there are a few files you wish to leave unconverted, uncheck them. Should you suddenly change your mind, click Uncheck all. Total Excel Converter integrates into Windows, so you can convert XLS to TXT right from the desktop. All you need to do is right-click on an XLS file and select Convert to. Then select your target format.

This program is shareware. You can purchase it online and receive all necessary tech support and upgrades for free. If you are not sure, please, download the free trial version, which is valid for 30 days.