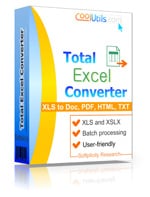 Interface languages:
English,
Spanish,
German,
French,
Russian,
Japanese.
Windows XP/2003/Vista/7/8/10
If you are running Microsoft Excel 2007 or higher and need to update your old XLS files to a newer format version XLSX, you will need a spread sheet converter that supports export to XLSX. Excel sheets stored in XLSX provide user with a range of advantages:
they are more compact in size than XLS;
XLSX files can be used by many non-Microsoft applications like OpenOffice and many others with the support of Open XML;
Moving to a newer format will provide you with ability to use the full pack of Microsoft Office functionality packed in handy interface of Office 2007 or 2010.
That is why keep your Excel documents up to date with the help of Total Excel Converter. This conversion utility from CoolUtils is developed to solve the problem of format compatibility of your office documents, including XLS spread sheets. Converting them to XLSX is simple with only one option required. All you need is to define a location for the future converted spread sheets if you need to store them in specific memory folder.
In order to convert XLS to XLSX consequently pass through a few simple and quick steps:
Download and install Total Excel Converter on your PC.
Open the program and navigate through your memory folders to find necessary source files.
You can check one or a few files for conversion. Batch conversion is helpful if you need to convert many files.
In the upper format bar click on 'XLSX' button. In such a way you select a target format for conversion and enable XLS XLSX converter.
In the opened window specify a file name and location (if needed) and click 'Start!'. Total Excel Converter also offers default name and destination, and you can use them instead of manual settings.
As a result, you will get XLSX copies of your XLS files. Total Excel Converter is already available for downloading – you can use licensed or trial versions at your option.