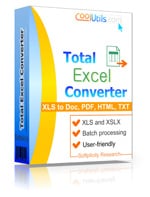 Interface languages: English, Spanish, German, French, Italian, Dutch, Russian, Swedish, Korean, Japanese.
Windows XP/2003/Vista/7/8/10
If you have to use Microsoft Access for your work or personal needs, you might know that converting XLSX into Access is not very easy. This task is particularly difficult when the version of Microsoft Office installed on your computer is slightly outdated.

However, as it is always the case, there's a quick fix solution to a big problem. This solution is known as XLSX Access converter. You can either look for Excel 2007 converter or later versions or download a program that allows to convert XLSX to Access regardless of how old these MS Office files are.

If you decide to go with the first option, you will realize that there is only a limited number of programs available online. However, if you choose to download all-purpose Excel converter, you will be amazed at how many tools there are. To avoid long and annoying trials, consider downloading Total Excel Converter.

This program has been developed by CoolUtils, a company with extensive experience in software design. Total Excel Converter is owned by thousands of users all over the globe who highly value its quality and reliability. You might want to join this army of Total Excel Converter users because:
This XLSX converter is very functional. You can use to not only process XLSX files into Access but also to convert XLS, ODT, ODS, XML, SQL, WK2, WKS, DBF, TEX and DIF into DOC, DOCX, PDF, HTML, TXT, ODT, ODS, XML, SQL, CSV, DIFF, and more.
This XLSX converter is very easy to use. Even those who have never before tried using format converters will be able to master Total Excel Converter in minutes. There are also online tutorials, how-to articles and step-by-step slideshow available online for those who need help.
This XLSX converter is very affordable. You can get this fully functional software, 24/7 customer support and free upgrades for under $50! Also, you can download the trial version of Total Excel Converter for free and use it for 30 days!
Do not hesitate! There is no obligation or hidden fees. Download Total Excel Converter now and see how easy it is to convert XLSX to Access!