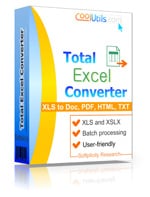 Interface languages: English, Spanish, German, French, Russian, Dutch, Swedish, Italian, Portuguese, Czech, Japanese, Chinese, Korean.
Win 2000/NT/XP/2003/Vista/7/8
When XLSX tables need to be transferred to DOC format, there is no other way than using XLSX DOC converter that will do this quickly and correctly. Manual export or copy pasting from one file to another can cause a lot of mistakes in data and take much time. XLSX format is rather new and many users are not able even to view such files. Converting it to DOC will solve all these problems at once.

Total Excel Converter is the utility you need. With its help you can easily convert any number of files from XLSX to DOC format. The program will create the exact Excel copy of your documents within a minute. All you need to do is to:
Launch the program
Check off all required sources
Do conversion settings
Enable conversion
All these actions are made through comfortable interface easy even for a novice. If you require to do conversion as fast as possible, you are welcome to skip manual settings, as this XLSX converter can work with settings by default. Manual adjustments are usually required if you need to set specific location for future DOC files or paper format. In other case default settings will be enough.

Total Excel Converter supports several interface languages (all European languages plus Chinese, Japanese and Korean), so it is suitable for a vast majority of users. Its interface is also customizable that allows each user to adjust its look according to his personal taste. Very simple menu structure and useful functionality maximally simplifies the task of conversion. The converter itself can even work in background mode, if to launch it via command line. All required command line parameters are described in Help menu.

If you need a handy fast-working converter for exporting XLSX files to DOC format, there is no better program than Total Excel Converter. Download it now for free or upgrade to licensed version.