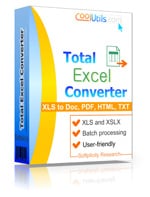 Interface languages: English, Spanish, German, French, Russian, Japanese.
Windows XP/2003/Vista/7/8/10
RTF is one of the most widely supported text formats that can be read by applications for all OS, including Windows, Linux, Mac OS and others. Its only shortcoming is comparatively big size, it grows significantly if file contains inserted images. XLSX is a document format used in Microsoft Excel 2007 or higher for keeping information in tables. It has wide formatting and calculating facilities, very efficient in terms of file size, but has limited compatibility with other applications except MS Office.

To make XLSX files more flexible, convert XLSX to RTF with the help of Total Excel Converter. RTF is able to save tables, so the file content structure will be saved unchanged. XLSX file conversion with the help of Total Excel Converter is easy and powerful. It allows to:
Convert any number of files in one programmed conversion;
Change the formatting options directly in XLSX converter without opening additional applications;
Set conversion options according to special user's requirements (like destination address for converted files, their file names, appearance, etc.);
View source files via the in-built viewer for more comfortable source file selection;
Handle the Excel converter through the command line or program user interface (at user's choice).
The conversion process itself takes a few seconds, the only thing user needs to do is to check required sources from the file list, pick up RTF target format and make a few settings in the options menu. Options setting is not required if you want to convert the source files with unchanged appearance.
Additionally Total Excel Converter offers converting XLSX files into DOC, PDF, TXT, XML. The conversion format depends on your needs, and all of them extend the field of use for information stored in XLSX. Total Excel Converter is open for free testing, you can always try it before buying a licensed version for full certainty in converter's practicality.