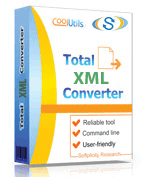 Interface languages: English, Spanish, German, Dutch, French, Russian, Japanese.
Windows XP/2003/Vista/7/8/10
Total XML Converter can well be used as an XML Access converter. This is an excellent tool for those who have to operate database on a regular basis. By aid of this powerful converter, you can make XML into Access in one click.

The program boasts a robust user interface, which eases navigation and saves you a lot of time. This is an excellent tool for both experienced users and beginners. It takes about three simple actions to convert XML to Access. Total XML Converter has advanced features, such as batch mode, command line support, built-in image viewer and automatic Wizard.
How to Convert XML to Access
Run the converter and select the folder with XML files. A list of files contained in the folder will be displayed on the right. Check one or a few XML files or press Check All button to check-mark all the files. If you would like to leave a few files unconverted, uncheck them manually. In the format bar on top of the interface or in the Convert menu, select Access. The wizard will help you select appropriate conversion parameters. Make your settings and use the built-in image viewer to make sure you have acceptable output quality. When you have made your settings, click Start.

This XML Converter enables you to convert XML to Acces right from the desktop using the right-button menu. Once it is installed on your PC, it integrates into Windows. Right-click on a file and select Convert to in the popup menu.

Command line support permits you to convert XML to Access from within any other program. This function is only available for registered users.

Total XML Converter supports several types of conversion, including XML to PDF, XML to JSON, XML to CSV and many others. Total XML Converter is available online. If you would like to estimate performance, download the free 30-day trial version. It will take 10 minutes for you to learn the trick. Registered users receive regular upgrades and free tech support.