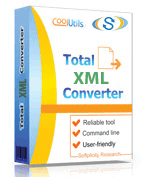 Interface languages: English, Spanish, German, Dutch, French, Russian, Japanese.
Windows XP/2003/Vista/7/8/10
Total XML Converter is a powerful tool to turn XML files into TIFF images very quickly. Its robust user interface permits you to convert with little effort on your side, no matter whether you are an advanced or first-time user. You are only to make a few simple steps to convert any number XML to TIFF.

You needn't even read instructions. This XML TIFF Converter features a series of advanced options, which facilitate the process and save you a lot of time and effort. These features include batch-conversion mode, command line support, built-in image viewer and Wizard.
How to Convert XML to TIFF
This XML Converter is very easy to use. Launch the interface and select the folder with XML files in the folder tree on the left. The contents of the folder will be displayed on the right. Check one or several XML files or check all the files using Check All button. If you would like to leave a few files in the XML format, remove the check marks from them manually. Select TIFF in the format bar on top of the interface or use Convert menu. The wizard will guide you through the procedure. Make your settings and use the built-in image viewer to check the output quality. When you have made your settings, click Start.

By aid of Total XML Converter, you can convert XML to image from the desktop. All you need to do is right-click on a file and select Convert to in the popup menu. Follow the procedure mentioned above.

With the help of command line, you can convert XML to TIFF from within other applications. This function is only available for registered users.

Total XML Converter solves various compatibility issues, as it supports Excel, Excel 2007, and OpenOffice. Other output formats are: JSON, PDF, CSV, DOC, etc.

Total XML Converter is shareware. It is available online. If you would like to see how it works, you can download the free demo version, which is valid for 30 days. After the trial period expires, you are going to have to buy the license version. Registered users receive regular upgrades and free tech support for 1 year.