| | | |
| --- | --- | --- |
| How to Convert Image to Ico | | (only $12.50) |
Nowadays you needn't be a professional user to face the task of converting images to icos and vice versa. But to fullfil the task sometimes you have to be one. Is the situation familiar to you? Luckily there is a solution.
Converting images to icos is extremely easy if you use new Image2Ico. Does that sound like another "Well, duh"? Let's see. New Image2Ico was developed so that even a complete green hand could handle it.
The whole point of this utility is its usability. First the installation is easy. Download Image2Ico and run the exe file. Second the initial use of Image2Ico is intuitive. You don't have to read dull manual guides and faqs to figure out how it works. Just open the program.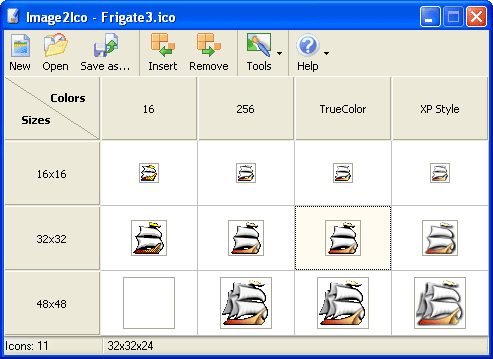 The workflow lies in a nutshell.
First you select the box of that size you want your ico to be (generally you need 32x32 TrueColor).
In this box your image (Bitmap, Gif, JPeg, and others) will be inserted. Note the option of changing transparency color when inserting.
Now press the button Save as ico in menu item File.
That's all! Your image has been converted to ico. Simple, duh? You may use drag and drop feature placing your image in the box you like. But if you just press File – Open in the main menu your image will be placed in the most appropriate box automatically.