Are you tired of carefully sorting out the e-mails in an attempt to clean up your Outlook Express mailbox? If you are, then you must be looking for a way to do it automatically. There is a great solution to your problem: an email converter that automatically integrates with Outlook Express and converts all the letters into documents!
We suggest you try Total Outlook Express Converter created by CoolUtils. This program works with Outlook Express native format, meaning you donít need to export folders or files from the e-mail client before converting them. With the help of CoolUtils converter you will be able to convert e-mails (EML) and folders (DBX) to HTML, DOC, PDF, TXT, and TIFF.
What is even better, you will get a chance to do it all quickly. Thanks to batch processing, you can convert over 10,000 emails or folders in one go.
With Total Outlook Express Converter you can even convert attachments! Simply choose to place them in a separate folder or to insert them into the output file.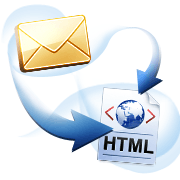 Now, letís see how to convert DBX to HTML.
First, visit the official website of CoolUtils to download a trial version of its DBX converter. It is absolutely free and valid for 30 days from the date of installation.
Then, open the EXE file to install Total Outlook Express Converter. Just follow the instructions of the installation wizard and donít forget to push the ďNextĒ button every time you make a choice.
Once the program is installed, open it by double-clicking on its desktop icon or by choosing it from the Start menu.
You will see that Total Outlook Express Converter has automatically integrated with your e-mail client as youíll be able to reach all your emails via CoolUtils converter.
To convert Outlook Express to HTML, simply select the DBX files you want to process, set HTML as target format and enjoy 100% automatic conversion!
Download the trial version of Total Outlook Express Converter now or contact CoolUtils customer service to learn more about this and other products.