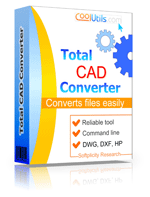 Windows XP/2003/Vista/7/8/10
DWF format is widely used for presenting drawings in more compact form than native CAD format. However it is not always ideal for publishing online or using in presentations and mailing. If you also experience difficulties with using DWF format, try to convert DWF to JPEG that can be viewed in any image viewer or web browser. In such a way you will make your drawings available for maximum of users. Doing this is possible with the help of Total CAD Converter – functional software kit with the support of all graphic and CAD formats used today. This application allows to convert CAD files to any of image format for better compatibility. You can perform numerous conversions between different formats, including: • DWF to JPEG • DWF to TIFF • DWF to PNG • DWF to PDF, etc.

Each conversion is performed with the same set of actions:
Selecting source files.
Selecting a conversion format.
Making settings for correct file appearance (paper size, rotation, color palette, file name and destination, etc.).
As for DWF JPEG converter, you need to select 'JPEG' in the format bar to turn DWF source files into JPEG images. Take into account that you can process as many source files at a time, as you need. There is no necessity to make settings for each file separately. It is very time-saving feature, you will definitely appraise it when working with lots of files. Each file will be converted into separate JPEG image.

This DWF converter also offers to perform conversion from the command line. If you have the application installed on your computer, you can enable it from the command line without opening the program itself. One single command is enough to make the conversion of all DWF files you need. All necessary parameters are described in 'Help' menu.

If you prefer easy file conversion with ability to change image parameters, Total CAD Converter will definitely meet you requirements. Download it now and get a universal converter for all your CAD files!

Interface languages: English, Spanish, German, French, Russian, Japanese.